Check your Pulse #37
the new social networks + an open thread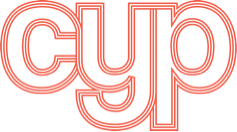 Hi, I'm Sari Azout and this is the the 37th edition of Check your Pulse, a tech and startups newsletter designed to make you feel human. I try to make this one of the best emails you get each week. If you're enjoying it and know someone who'd like this sort of thing in their inbox, they can sign up here.
Happy Sunday, friends.
What a week. It's a strange feeling — waiting to see what will happen. 
Staying inside with two high-energy kids has me, well, a little overwhelmed. It's not lost on me that there are so many people far more vulnerable than I am, and my childcare anxieties are trivial in comparison. If you are in a place of stability, I hope that you can quickly shift to think about what you can offer the world.
Today's post is a big longer than usual — skip through to the links if you're not interested in my ramblings on emergent social networks and membership-driven communities.
---
Our collective idea of "community" has changed dramatically over the past few decades. When I was growing up, my community was made up of the people I saw physically— at school, in my neighborhood, or at my local synagogue. These days, when I think of community, I think of my childhood friends, the women in my article club, my children's school. But I also think of Heymama, a working moms community I'm part of, the Women in VC community, and the people I've met through Twitter.
As commitment to religion wanes, people are looking for other forms of belonging.
This Bishop quote captures that shift:
"It used to be that people were born as part of a community, and had to find their place as individuals. Now people are born as individuals, and have to find their community."
Facebook is not going anywhere, but if you look more closely, you'll notice that young people are retreating. Even if they don't pitch themselves this way, Facebook built a powerful platform to connect people to businesses, but not necessarily people to people. 
And so people are looking elsewhere...
We don't know what the next platform shift will be (AR? VR? Airpods?) or when it will happen — but it's impossible not to notice that people are getting tired of the highlight reel and the pendulum is swinging back to private, interest-specific social networks.
Anna Gat's The Interintellect has taken off as a community of intellectuals/talent agency. Jeff Morris, who previously led product at Tinder, recently launched Study Club, a community for online professional support groups. Monica + Andy (a children's apparel company I'm an investor of) has a 9-month network to connect and host classes for their pregnant customers. Influencers have also recognized this trend, and have started charging a monthly fee for more intimate interactions.
In FirstRound's 2019 State of Startups report, 80% of founders said that building a community is critical to their business. 
Chris Dixon famously said, "the next big thing will start looking like a toy."
It's easy to see an online community for moms or intellectuals and dismiss it as a niche thing. But if we zoom out, the market for "third places" is massive — country clubs alone are a $24.5bn industry. 
Brands like Modern Fertility and Glossier are building communities. Small, interest-based digital micro-communities like Wana and Diem are being birthed every day. IRL member clubs like Ethel's Club and The Wonder are growing. And a big wave of startups to support these communities is emerging.
Broadly speaking, I segment these into 3 archetypes: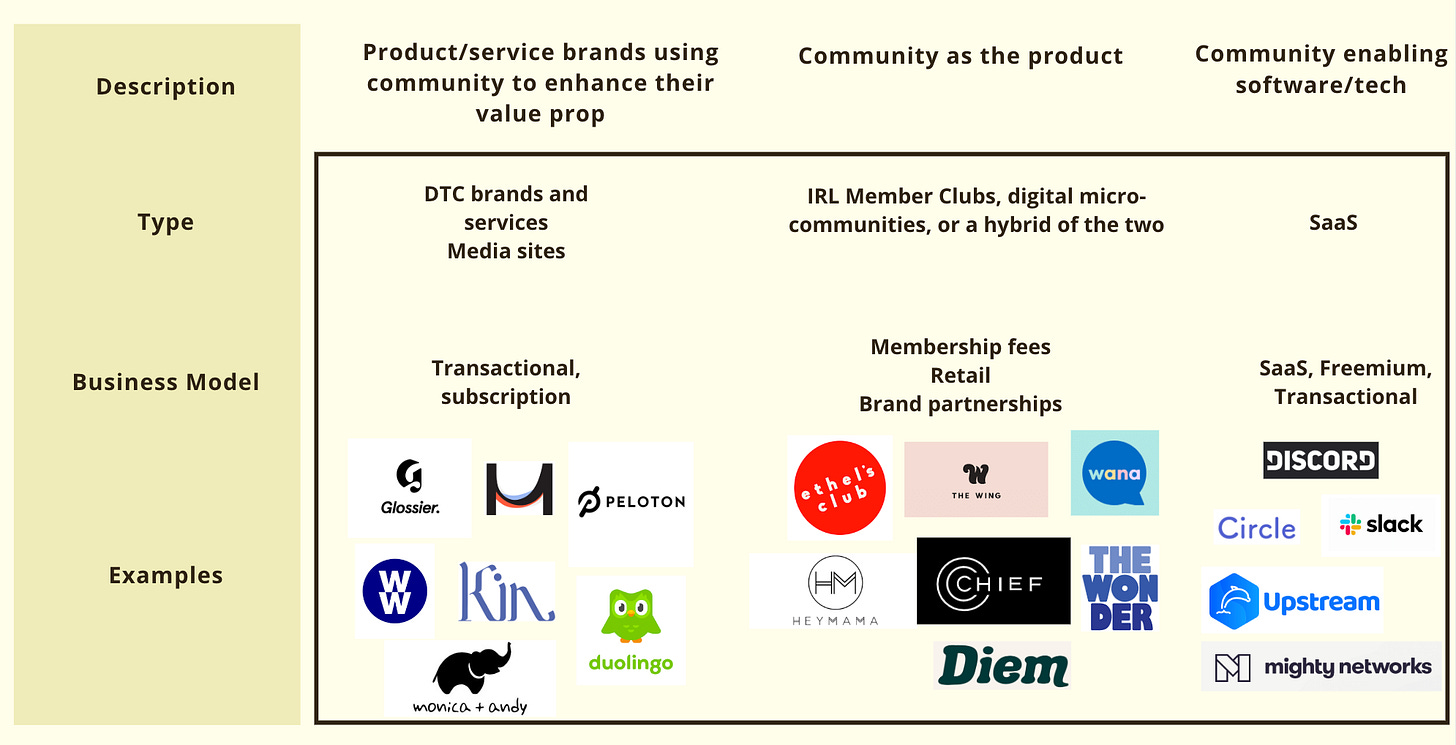 With so much activity in this space, the question I keep coming back to is: are communities venture backable?
The most successful companies of the Internet era have been predicated on network effects —the product gets better as more people use it. When I think of the communities I'm part of (both the digital micro-communities and IRL member clubs), that's not necessarily the case.
The more members Soho House accepts, the less likely I am to get a spot at the beach on Saturday.
And when I think of the best digital communities I'm part of, places like The Proof's secret Slack channel, (where Adrian has hand selected a few people to join) stand out as generating the most value.
In contrast to traditional social networks driven by network effects, with emergent private networks, the reverse often happens — new users joining the community lower the quality of interactions and increase noise/spam.
So if membership growth is not the end goal, can these communities generate enough revenue per member to stay smaller?
In Backing IRL Social Clubs, Packy argues that some of these communities are acquiring highly-engaged highly-targeted members at low costs, and building relationships with them that they can nurture to generate revenue independent from growing square footage. 
Take The Wonder, a modern family club experience for kids and parents. Will brands like Nuna or Lalo see them as a viable acquisition channel when their potential reach is just a few hundred families? Maybe as a branding/positioning play, but these channels simply don't have the scale and volume to be taken seriously.
Or take The Wing, which has an estimated 10,000 members, but over 500k followers on Instagram. They now sell merch to everyone. Can they build a big e-comm business for non-members? Maybe. But I worry this dilutes the focus away from serving their core customer: members.
Brand partnerships and scaling retail for non-members might work in some cases. But for the most part, member communities that generate the majority of their revenue from branded partnerships and retail will inevitably face tradeoffs between revenue growth and the quality of the member experience, which eats away at the purity of the community. 
On the software side, there's a lot left to do. No one has built a great product to host a community, and every creator or brand is currently patching up tools.
For example, Duolingo's users connect in Facebook groups organized by the language they are learning, while Modern Fertility runs a community on Slack for women thinking about their reproductive future. Many of the communities I've spoken to eschew platforms like Mighty Networks and are building their own.
As Rebecca Kaden at USV predicts, increasingly, this community piece will be built into the platforms themselves rather than existing externally.
The challenge is every community is different, which makes it a hard design problem to solve.
Some tools, like Comradery, Upstream, and Circle have not fully launched, so it's hard to discern what they've built. For others, like Palapa, it's not evident in the first 60 seconds of navigating their site how they differ from Slack. There's others - like Tribe and Disciple — but overwhelmingly, I'm left feeling none of them have gotten it exactly right.
One of the challenges of building community software is that communities are an important piece of many businesses, but it's not the only thing they provide, so the ideal solution needs to blend in with the rest of the offering.
For example, many content creators distribute their content on Substack, which allows creators to monetize subscriptions. Wherebyus takes it a step further by enabling creators to make money not just from subscriptions, but with ads. These are great businesses building the back-end for content creators.
But as content and community merge, so will the demand for tools that allow interoperability between content and community.
So where does that leave us? The jury is still very much out there.  
There are a lot of businesses that shouldn't be venture backable but should still exist. 
If I was building software to power these communities, I would spend a lot of time discerning different use cases and unlocking a unique insight.
And if I was running a community, I would focus on building something meaningful rather than building something fast.
I'd love to hear your thoughts on this space. I'm trying out threads for the first time, and you can join the discussion here.
Stay safe and kind✌🏼
Sari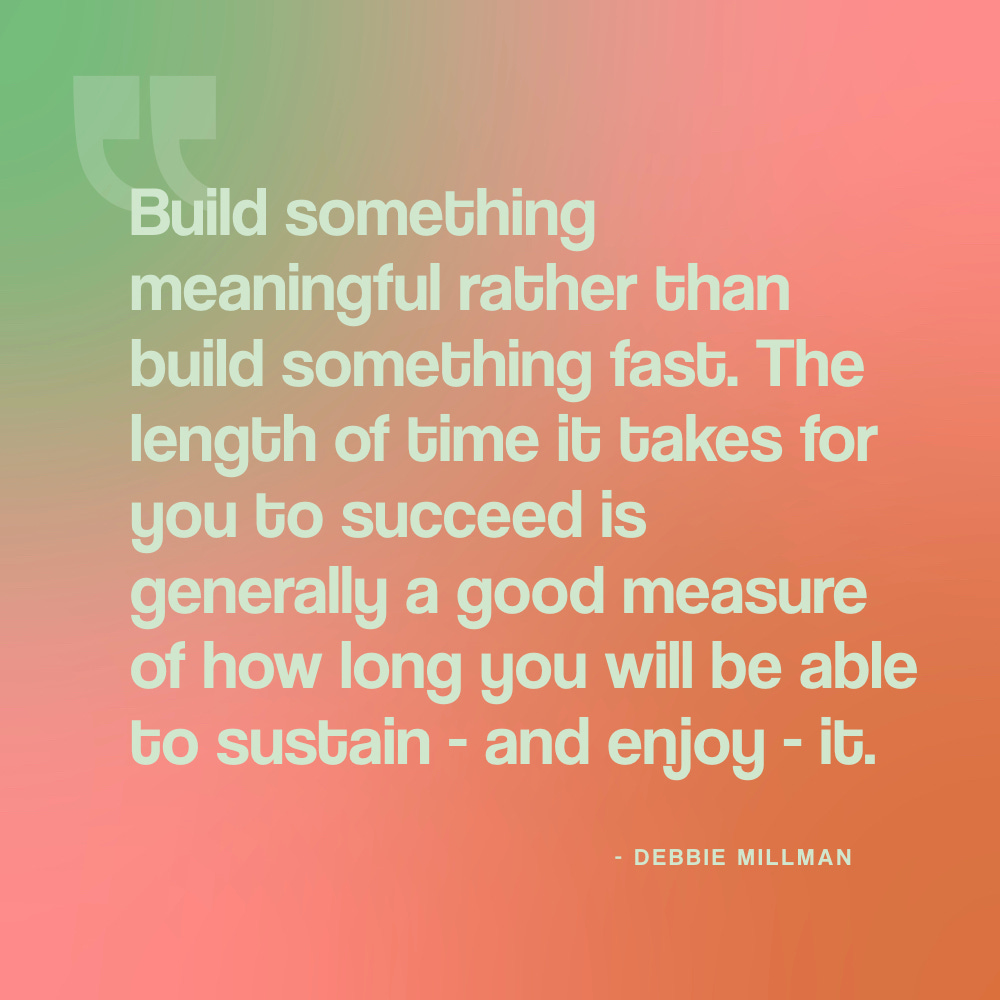 The teaser site for Ghia, a soon-to launch non-alcoholic social tonic founded by Glossier's former Head of Retail is up. Also, this playlist they made is lifting my spirits. Full disclosure: I am an investor. 🍸
I can't stop listening to this Shania Twain cover 🎤
Imo, this is the best and only important read on COVID19. 📊
Can't get your kids to wash their hands? Show them this. 💯
If you're worried, don't read this. In 2017, researchers wanted to see how long it takes for a virus to spread in an office. They placed a (harmless) sample on a doorknob and on the hand of one volunteer in an office with over 100 people. Within four hours, the virus could be found on 50% of the office's surfaces. 😧
A high quality list of product designers and their portfolios 👩🏽‍💻
Ty Haney, the founder of Outdoor Voices responds to the Buzzfeed article condemning their culture. There is an unsettling trend lately to interview ex-employees of female-founded companies and report their claims either at face value or without any context. These are trends that will only serve to drive women back out of the board room. 😮
A handly list of community building resources 💯
Quarantine chats connects isolated people in serendipitous conversations. 📞
This take on the Parent Trap handshake made me smile. 🤣
I'm intrigued by Madefor, the latest venture from the founder of Tom's Shoes, which delivers monthly wellness kits to help you build better habits. 💯
Amazon launched Just Walkout to give any store the option to build a cashier-less store. 🛒
A list of all the shows coming to Quibi, along with their teasers. 🎬
I love this advice from The Secrets of Happy Families: have your kids pick their rewards and punishments. "By picking their own punishments, children become more internally driven to avoid them. By choosing their own rewards, children become more intrinsically motivated to achieve them. Let your kids take a greater role in raising themselves."👨‍👩‍👦‍👦

Why all the Warby Parker clones are imploding Instead of disrupting Target, the company suddenly wanted to be sold in places like Target. 💣
Went back to review my highlights from Zero to One. This one feels particularly important now: "If your product requires advertising or salespeople to sell it, it's not good enough: technology is primarily about product development, not distribution." 📖
These days, startups can go from hot to not overnight. David Sacks shares some thoughts on how to avoid going off the rails. ➕
Kinnos, a maker colorized disinfectant products, raised $6m last week, while Touchland, a personal use hand sanitizer brand, raised $1.75m in funding. If you're in the cleaning products business: this is your time. 🧼


If you're wondering who's behind this newsletter:
My name is Sari Azout. I am a design-thinker, strategist, and early stage startup investor at Level Ventures and Rokk3r. My mission is to bring more humanity and creativity to technology and business.
Want more?
Follow me on Twitter, Medium, and Instagram.
Know a founder i should meet?
Drop me a note at sari@level.vc
If you're enjoying this newsletter, I'd love it if you shared it with a friend or two. You can send them here to sign up.
And if you come across anything interesting this week, send it my way! I love finding new things to read through members of this newsletter.
Thanks for being here!