Welcome to the 35th edition of Check your Pulse, a tech and startups newsletter designed to make you feel human. I try to make this one of the best emails you get each week. If you're enjoying it and know someone who'd like this sort of thing in their inbox, they can sign up here.
Happy Sunday, friends.
Last week, Molly Young at NYMag published a worthwhile read on the epidemic of corporate speak.
Here's an excerpt:
In 2011, I was dropping printouts on a co-worker's desk when I spotted something colorful near his laptop. It was a small foil packet with a fetching plaid design.

The front of the plaid packet said UPTAPPED: ALL NATURAL ENERGY. The marketing copy said, "For too long athletic nutrition has been sweetened with cheap synthetic sugars. The simplicity of endurance sports deserves a simple ingredient — 100% pure, unadulterated, organic Vermont maple syrup, the all-natural, low glycemic-index sports fuel."

It was a packet of maple syrup. Nothing more. Whenever I hear a word like operationalize or touchpoint, I think of that packet — of some anonymous individual, probably with a Stanford degree and a net worth many multiples of my own, funneling maple syrup into tubelets and calling it low-glycemic-index sports fuel. It's not a crime to try to convince people that their favorite pancake accessory is a viable biohack, but the words have a scammy flavor. And that's the closest I can come to a definition of garbage language that accounts for its eternal mutability: words with a scammy flavor. As with any scam, the effectiveness lies in the delivery. Thousands of companies have tricked us into believing that a mattress or lip-gloss order is an ideological position.
In Oversharing, Alison Griswold made the observation that "this garbage language is key to how so many not-tech companies become, in the popular mindset, tech companies."
Why was Casper treated as a "tech startup" while Purple was just a mattress company? Is it the VC funding? The Red Antler branding? The podcast ads? Or is it the fact that they look and talk like a startup?
In language market fit, I argued that "in a world with free information, abundant data, and virtually no barriers to entry, companies will succeed by selling purpose, not a product."
I continue to think storytelling will be the most differentiating business skill of the 21st century. A good story will get people to want to work with you, customers to want to buy from you, and investors to invest in you. It's a lot easier to do this if your mission is to "awaken the potential of a well-rested world" than if you're just another mattress company.
A good story, then, lowers the cost of capital because it raises expectations.
The challenge is when those expectations are not met, when the distance between what the company is and how it defines itself grows ever larger. That's when the language starts to have the scammy flavor Molly Young alludes to.
A recent example is the athleisure brand Outdoor Voices. Last week, BoF broke the news that founder Tyler Haney is stepping down from her role as CEO. The company also reportedly raised a "down round" from existing investors as the company continued to lose money.
Outdoor Voices' stated purpose is to free fitness from performance. They were able to carve a space in a crowded category by going after people that felt alienated by traditional activewear brands. The OV brand, then, is about much more than selling activewear, and considering their purpose, it wasn't hard to imagine them building tools, services, or experiences to connect people through activity. But their product innovation slowed and was no longer satisfying investors who expected them to become the next Lululemon or Nike.
Bottom line is the language works until it becomes just that - language. The story is important. But the story isn't and shouldn't be about the marketing. It has to be about the strategy. Otherwise, it becomes what Molly Young warns about in her piece, not just "annoying but malevolent — in that it confirms delusion as an asset in the workplace."
🙏🏼
Sari
The clearest, most approachable intro to carbon removal technologies I've seen 🌳👏🏼
I keep coming back to this 1999 Anna Quindlen commencement speech. When I quit the New York Times to be a full-time mother, the voices of the world said that I was nuts. When I quit it again to be a full-time novelist, they said I was nuts again. But I am not nuts. I am successful on my own terms. Because if your success is not on your own terms, if it looks good to the world but does not feel good in your heart, it is not success at all. Remember the words of Lily Tomlin: If you win the rat race, you're still a rat.
Damn, the gaming addiction is real 🎮👇🏽
Little talk conversation starters are prompt cards that spark better conversations with your kids. 💬
I sampled several books on my Kindle last week and the only one I couldn't resist was Jia Tolentino's Trick Mirror. She's such a talented writer, and this book is feeding my millennial existential angst in all the ways I want it to. Here's one of the lines I highlighted 👇🏽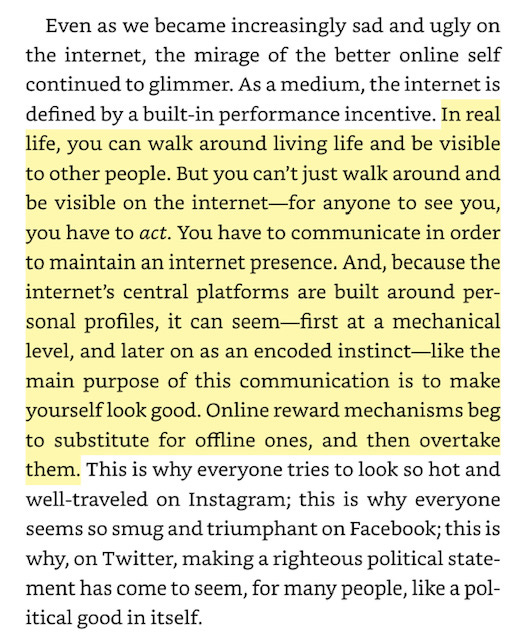 A 2013 essay by Snapchat that predicted the shift in identity brought by the Internet. Rethinking permanence means rethinking this kind of social media profile, and it introduces the possibility of a profile not as a collection preserved behind glass but something more living, fluid, and always changing. 🔎
The 11 most recurrent cultural trends from studying 30+ trend reports 🔮
This line by Anis Mojgani (featured in the Good Work newsletter) stopped me in my tracks: Work will always be work. Some people work doing what they love. Some people work so that they can do what they love when they're not working. Neither is more noble. 🎯
Tim Ferris on 11 reasons not to become famous. If I've learned anything, it is this: fame will not fix your problems. Instead, fame is likely to magnify all of your insecurities and exaggerate all of your fears. It's like picking up a fire extinguisher for your pain that ends up being a canister of gasoline. 🤯
The Brandless of Canada is called No Name and it's very successful 👇🏽
Liquid Death (a canned water company I featured in the 14th issue of this newsletter) raised a $9m Series A last week, and the Internet had a lot to say. I recommend going back to read that issue - it was a good one. 🥤
If you're interested in the digital health space, Nikhil Krishnan (one of my favorite thinkers on this topic) just launched Out of Pocket, a newsletter that presents healthcare research and analysis in a digestible and funny way. 😷
Holy moly 😮
Fun example of power law returns: Assuming YC still owns 2-3% of Airbnb (YC class of 2009), that equity stake pays for every single seed investment YC has *ever* made, as well as funding the next 2000-4000 YC companies (5-10 years' worth).
Atolla is a personalized skin health brand. Their first product is a personalized serum that reduces wrinkles. Figuring out how to fix a skin issue is confusing and highly personal - it depends on factors like our genetics as well as lifestyle and environmental factors. There are several other players trying to build personalized, AI-driven skincare (Proven, Curology, and HelloAva come to mind). Most of these rely on quizzes, and it's not clear to me what their datasets are based on. I love that Atolla has an at-home test (that you don't have to send back!) instead of a long list of questions you may not know the answer to. Success in this space will require a unique combination of data science, dermatology, and design/brand talent. In a category that is so emotional, the winners of the last decade have been companies like Glossier and Drunk Elephant. I'm not sure today's consumer is ready for a "machine learning for skincare" pitch and the team that wins needs to not only have the best data and predictive modeling but also understand the nuances of speaking to a customer in a category driven by emotion.
At the age where 25 year olds look like high schoolers to me
If you're wondering who's behind this newsletter:
My name is Sari Azout. I am a design-thinker, strategist, and early stage startup investor at Level Ventures and Rokk3r. My mission is to bring more humanity and creativity to technology and business.
Want more?
Follow me on Twitter, Medium, and Instagram.
Know a founder i should meet?
Drop me a note at sari@level.vc
If you're enjoying this newsletter, I'd love it if you shared it with a friend or two. You can send them here to sign up.
And if you come across anything interesting this week, send it my way! I love finding new things to read through members of this newsletter.
Thanks for being here!