Welcome to the 27th edition of Check your Pulse, a tech and culture newsletter designed to make you feel human. I try to make this one of the best emails you get each week. If you're enjoying it and know someone who'd like this sort of thing in their inbox, they can subscribe here.
Happy Sunday, friends.
Millennials and younger generations have vastly different expectations around aesthetics, customer experience, and values, which has led to an emerging class of DTC brands reinventing legacy product categories — think eyeglasses, mattresses, shampoo (a handy list of such companies is here).
Now, a new wave of companies is applying that playbook to consumer services, the brick and mortar locations that make up cities (think your therapist, nail salon, primary care doctor).
Tend, Dntl, and Henry the Dentist are applying this model to the dental experience. Brella (which I covered in a previously newsletter issue here) is building beautiful, on-demand childcare centers. Alma and Two Chairs are redesigning the in-person therapy experience. Kindbody is rethinking fertility care and in particular the egg freezing experience while Tia is a beautiful integrated wellness and gynecology clinic. Parsley Health and Forward use tech and design to offer a better primary care experience. Everbody is the "Drybar for Botox" while Wthn is dubbed the "Drybar for acupuncture". Chillhouse is the swoony NYC destination rethinking the spa experience and The Wing, a coworking space and social club for women is a designer's dream.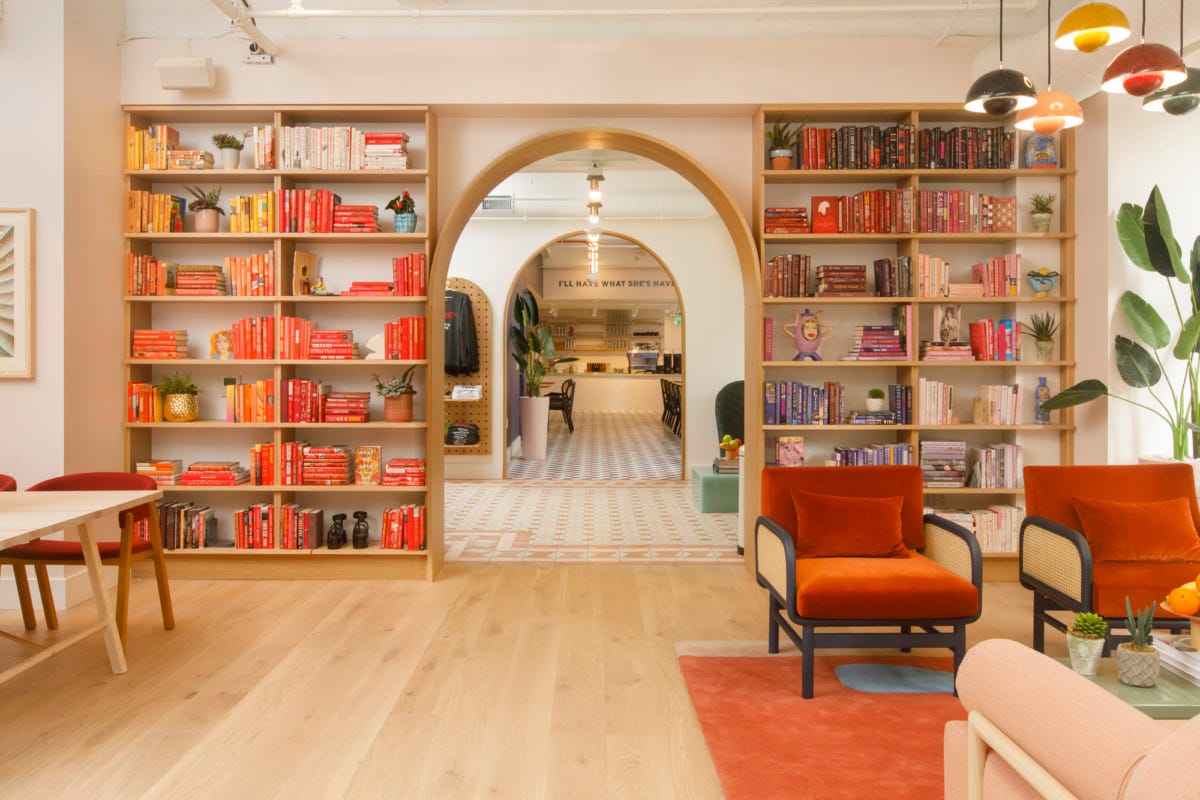 Dan Frommer of The New Consumer writes: "Tend's most immediate, obvious differences are cosmetic and experiential. Its first studio, in a street-level retail space in Manhattan's Flatiron district, looks as if the design brief was to merge The Wing with an Everlane store and sprinkle it with an Instagram Museum of Toothpaste."
While their value propositions differ, at their core, all of the companies I listed are using catchy branding, interior design, and aesthetic intelligence (a term coined by Pauline Brown, former chairman of LVMH) to attract consumers frustrated with old school services.
Steve Jobs and his re-creation of what a technological device could feel like to a user is perhaps the most classical example of this. Prior to infusing his aesthetic into Mac products, computers were about microprocessing power and there was a race to do things faster and cheaper. But Apple didn't win because their phone was the fastest. They won because they provided a human experience that lifted users in ways that no one else in the industry thought possible or valuable.
Taste is often discarded as a superficial thing but aesthetic intelligence and the ability to elicit true delight is critical at a time where traditional advertising is no longer effective. Consumers have little loyalty for incumbents — just because my grandmother used a product doesn't make it desirable to me. In fact, data supports that we are moving towards more discovery and trusting our senses in ways that we haven't for the past 50 years.
And yet many of these businesses have been met with skepticism. A few months after Tia (the beautiful women's healthcare clinic) launched, Bloomberg published an article that was critical of the business, citing wait times and appointments that extended to months. For many of these companies, the primary business model depends on a monthly membership. Parsley Health for example charges a $150 monthly fee and doesn't take insurance. Kyle Chayka, who writes about design and culture, argued that the problem with the designification of healthcare is that healthcare is not a consumer good like a mattress and "these spaces contextualize medicine not as a systemic social service but as an individualized consumer good."
In today's crowded marketplace, we can't discount the importance of a different kind of AI - aesthetic intelligence. But the broader takeaway for me is that while we should celebrate creativity, aesthetic intelligence, and human-centered design, we shouldn't go so far as calling any company featuring hip interiors disruptive. They are delightful, no doubt. But to truly disrupt a category like healthcare requires a complete upending of the healthcare system, not just nice midcentury furniture.
🙏🏼
Sari
(P.S. Speaking of aesthetics, I introduced some design to the newsletter this week. Thoughts? Feedback? Tell me everything!)
I'm very intrigued by Meet Cute, a company backed by USV that's got something to do with rom-coms and is launching Valentine's Day 2020. 💕
I love the idea behind The Shapeless Shape, a new children's book about a world of shapes where circles, squares and rectangles go to school to learn what they can become. But there is one shape — a shapeless shape — that just doesn't fit. It's a simple and creative way to invoke conversations about the way we all design our paths, grow our creativity, and find our place. ⭕📐
An artist sold a banana duct-taped to a wall for $120,000 at Art Basel Miami. It has apparently been eaten. 🍌
An interesting piece on The Atlantic about ambition in marriage. 💍
As we head into the holidays, I appreciate this gifting tip via Ann Friedman's newsletter 👉🏽 My number-one gifting tip is not an item or a discount code, but a process: In the notes app on my phone, I write down gift ideas as they occur to me throughout the year. I notice a friend complains they don't have a decent travel mug, I make a note. I see something that my sister would love while I'm browsing in a shop for something else, I make a note. I have dinner at a neighbor's house and notice they are short a few serving spoons, I make a note. It really helps, when birthdays and holidays roll around.🎁
Oprah interviewed Lady Gaga on Supersoul. 💯
If you've ever wondered how D2C mattresses like Casper and Purple fit into convenient delivery boxes, here's what the machine that does it looks like. 📦
That Peloton ad everyone hated knocked $1.5B off the value of the company. But the ad was later upstaged by Ryan Reynolds, who hired the actress to appear in a "sequel" ad for his alcohol brand Aviation Gin. What a brilliant move! 😳
It's the end of an era for Google as Larry Page and Sergey Brin (each 46 years old and with a net worth of more than $50 billion) step down from active management of the parent company.
This is a staggering statistic. 😮
Morning routines won't fix your life (The Atlantic). Like many morning-challenged people, I mine others' routines in search of some revelation—a tip or technique that will inspire me to transform my feed-the-cat-and-sprint-out-the-door ways so that I may unlock the healthiest and most productive version of myself. But I end up feeling terrible instead, and wondering what's so great about the saintliness our culture seems to ascribe to early-bird achievers. ☕
Exploding Topics is a one-stop aggregator for trending topics in health, business, marketing, fashion and more. 📈
This is a very interesting phenomenon. Once you see how the sausage is made, you probably don't want your friends and family to eat the sausage. 👇🏽
A Facebook employee who blocks FB for their kid. An Ivy League professor who has their kid homeschooled / not attend university. A VC who tells their friends to bootstrap and not take VC funding. What's the best term for this type of phenomenon?
Words of wisdom via James Clear 👇🏽
This week, Away, the trendy travel startup that recently became a unicorn, made rounds with a report by The Verge about the company's supposed "toxic work environment." Clearly, this is an example of the CEO hitting the wrong note and a culture that needs to be fixed. But people love reading stories that make powerful people look bad, especially women. Sara Mauskopf, Co-founder and CEO of Winnie, shares her thoughts. On a related note, this Obama snippet on why we need to get over cancel culture is worth a minute of your time. ✈
In Why the Next Professional Network Will Look Nothing Like LinkedIn, Brianne Kimmel argues that LinkedIn has become a joke as a consumer product (see: @stateoflinkedin) and that there are lots of opportunities for new professional networks based on shared interests and peer education. 💻
A list of decent B2B startup ideas. 💭
The revenge of brick and mortar is a great read on the service economy transformation (related to today's note) 🏨
A very useful post on DTC metrics shared by the founder of Ro. There's an especially useful downloadable template payback model at the end. 👌🏽
Remote First Capital is a group of remote founders, operators and early investors investing in the next generation of remote work. If you're building a startup that improves remote work or your startup leverages remote work in a unique way, reach out. 🌍
Helena Price Hambrecht, Co-founder of Haus, talks about founding Haus, focusing on PR at launch and what comes next for the direct-to-consumer industry. 🍷
Delphia is a new fintech startup that lets people invest in the stock market using only their data. Users connect their personal information — location data, social media accounts, shopping data — and answer daily questions about their behavior for the company to analyze. All data is consensually shared and Delphia then makes strategic picks in the stock market on behalf of its users. The company will collect fees and then redistribute half of those back to users sharing their data in exchange for investments, but users don't have to actually contribute any money to participate. In order for the idea to work, there needs to be a critical mass of users sharing their data, and Delphia is aiming for 100,000 folks before "officially" launching their app. This is one of the most unique fintech projects I've seen — using personal information to make smarter investments and then paying dividends to its data contributors instead of to collect ad revenue. In a Fast Company article, CEO Andrew Peek said "Capital markets are 100x the size of advertising, so if we were going to look for a place to co-locate our data and make it valuable, that is where we should look." Whether this succeeds or not will depend on whether they can get a critical mass of users to opt in with their data and whether they can convert that data into smart investment decisions. Contributors don't stand to gain anything without significant outside capital, but that investment won't come until Delphia can prove that its model works. It's the classic chicken and egg problem. But these are exactly the kinds of risky businesses the venture asset class was designed for, and I'm excited to see whether it will take off.
Forbes 30 under 30 is cool and all, but you know what's the coolest award? Product/market fit with a team you love and a product you believe in That's the ultimate award
If you're wondering who's behind this newsletter:
My name is Sari Azout. I am a design-thinker, strategist, and early stage startup investor at Level Ventures and Rokk3r. My mission is to bring more humanity and creativity to technology and business.
Want more?
Follow me on Twitter, Medium, and Instagram.
Know a founder i should meet?
Drop me a note at sari@level.vc
If you're enjoying this newsletter, I'd love it if you shared it with a friend or two. You can send them here to sign up.
And if you come across anything interesting this week, send it my way! I love finding new things to read through members of this newsletter.
Thanks for being here!